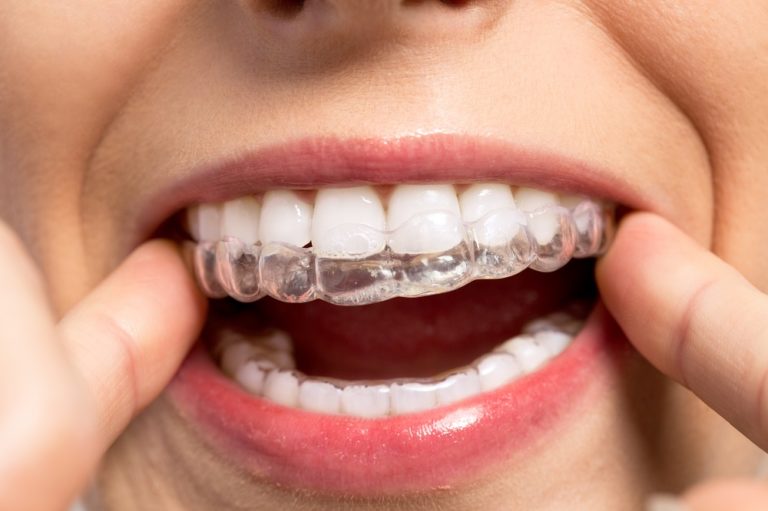 Invisalign Aligners are lovely, aren't they? No brackets, no wires and, most importantly, transparent, so they don't get in the way of your beaming smile. Invisalign Aligners do come with some maintenance, though, to keep them bacteria-free and looking clear as day. Check out these simple steps to help you keep your trays clean.
1. Brush Your Teeth, But Rinse the Aligners.
Brushing your teeth before putting in your aligners helps to prevent food and plaque from getting stuck pressed up against your teeth when the aligners are in place. Sounds nasty right? So, make sure your teeth are nice and clean before putting the aligners on.
That said, only use toothpaste for your teeth. Don't use toothpaste to clean your aligners as many brands have ingredients that can scratch up or cloud the trays, making them less clear. Rinse your aligners off with water and some non-colored antibacterial soap instead, and do it every time you take them out of your mouth. This will help keep dry saliva and plaque from forming bad-smelling bacteria on them.
2. Daily Soaks
Soak your aligners at least once a day to give them a deep clean. If you do brush them, make sure to do it gently to avoid scratches. Denture cleaners can also work well to sanitize the trays, so you aren't putting any unnecessary bacteria in your mouth.
3. Avoid Eating and Drinking
Many foods and drinks can stain or do damage to your aligners so, stick with drinking water instead. When it's time to eat, remove the trays (remember to rinse them out!) and eat to your heart's content. Make sure your teeth are clean before re-inserting.
Give Us a Call
If you ever run into problems or have questions about your Invisalign Aligners, or maybe you think it's time to get a pair for yourself or a family member, then give Hansen Orthodontics a call today to request a consultation. Dr. Hansen and his team will help ensure your teeth are looking just as perfect as your smile.