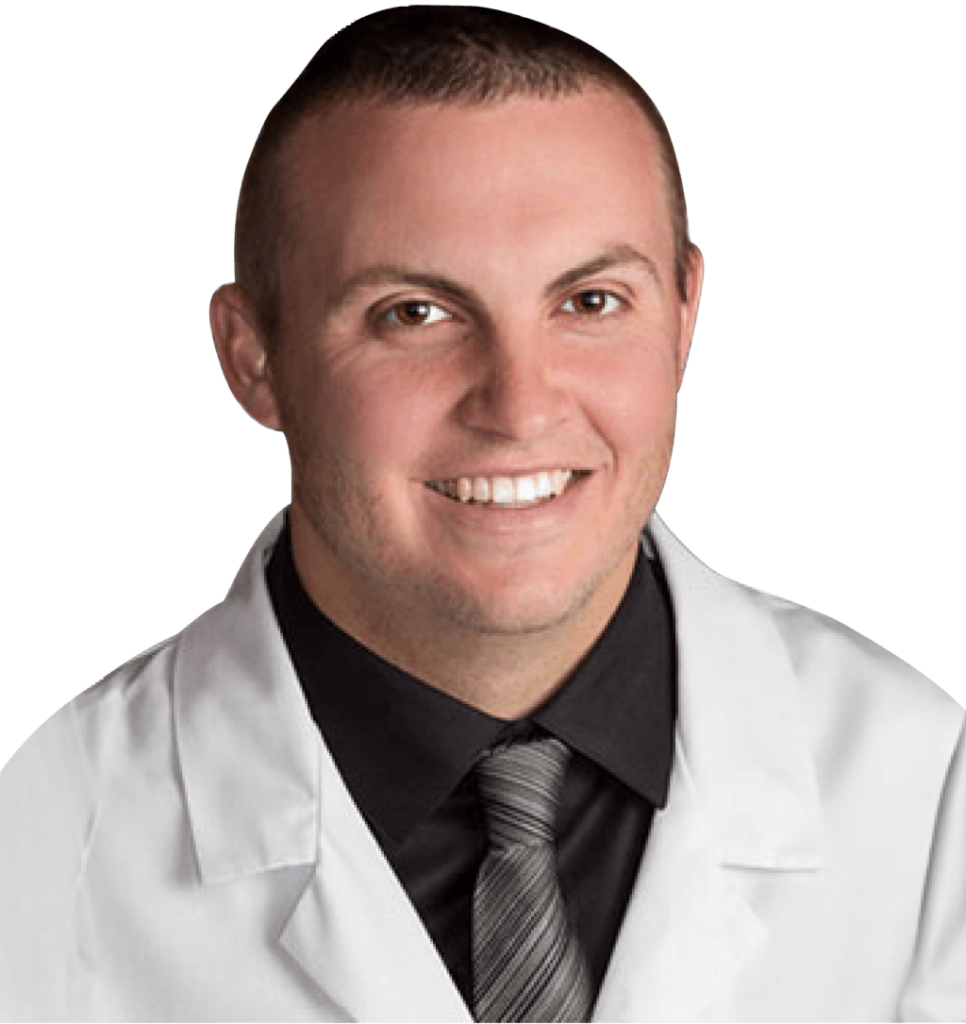 Meet Dr. Hansen
I was born in Beloit, in north-central Kansas, and raised in a blue-collar family in the small town of Sedgwick. My father is an electrician and my mother was a school bus driver. I have four younger brothers. Growing up, our parents made sure we boys were busy, especially participating in lots of sports activities. Our parents never missed a game.
At the age of nine, with the gentle encouragement of our mother, my brother and I began our first job, delivering newspapers. That experience was the foundation of my work ethic. I have been employed ever since and bring that commitment to caring for my patients.
My patient care philosophy comes from a simple but recurring lesson from my parents: to always act with honesty and empathy. It is my belief that this approach to patient care cultivates a strong, healthy relationship with patients, their families, and the community.
Education & Continuing Education
Bachelor of Science in Biology, minors in Chemistry and Business Administration, GPA: 3.8
Doctorate of Dental Medicine, Midwestern University College of Dental Medicine, GPA: 3.91
Master of Science in Oral Biology, University of Nevada Las Vegas, GPA 3.96
Certificate in Orthodontics and Dentofacial Orthopedics, University of Nevada Las Vegas, GPA: 3.96
While attending dental school, in 2010, I was ranked first in my class of 110. At the University of Nevada Las Vegas, in 2014, I was the Chief Orthodontic Resident.
At the University of Nevada Las Vegas, I've taught the Introduction to Orthodontics: Serial Extractions, Functional Appliances, Treatment Planning, and Lab course. I have also presented and instructed at the Western Regional Dental Convention. Additionally, my publication, "Determining the Effectiveness of Bonding Systems," was published in Interceptions: Journal of the AZ Dental Association.
Each year I complete many hours of continuing education. This ensures I am current on the ever-changing technologies and techniques and able to provide my patients with the best results. I have completed the Tweed Study Course. I have also received certification in the use of Cone Beam Computed Tomography and in Invisalign®.
Professional Memberships
American Board of Orthodontics Board Diplomat Eligible (in progress)
American Association of Orthodontists
American Dental Association
Kansas Dental Association
Wichita District Dental Society
Additionally, I'm fully licensed by the Kansas Dental Board and the Nevada State Board of Dental Examiners.
Personal Life
My wife Florence and I met in an Organic Chemistry course in January 2003. We were married by November of that year. Unfortunately, my mother was diagnosed with pancreatic cancer that same year. She underwent rigorous chemotherapy but ultimately lost her battle in the summer of 2004. We feel blessed, in that she was present for the birth of her first grandson, Jordan, four months before her death. Since then, Florence and I have had three more sons: Xzavier, Micah, and Nathaniel.
Florence and I enjoy spending time playing sports, visiting with family, and relaxing at home with our boys. I have coached my boys on various sports teams and can barely contain my pride and excitement anytime they score a touchdown, hustle down the court, or field the ball.
Florence joined Hansen Orthodontics in the fall of 2015, as our Practice Manager. I'm glad to be partners with her at home and at the office.