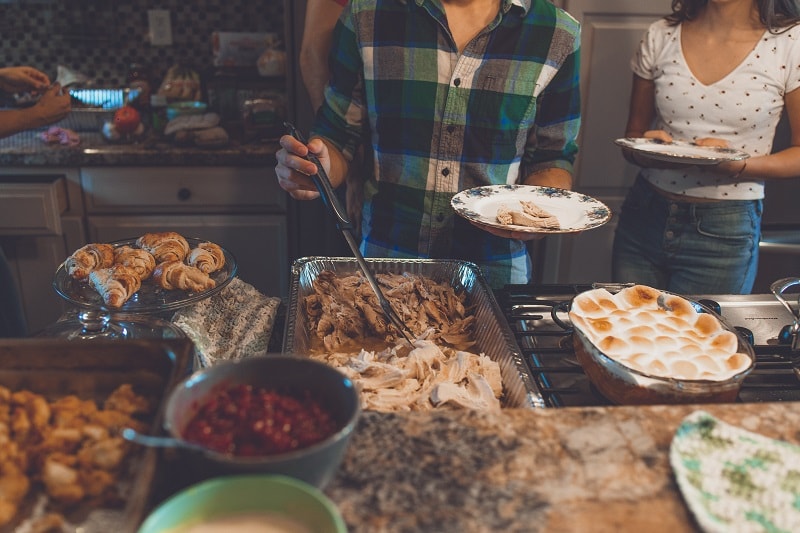 Thanksgiving is only a few days away, which means it is almost time to gather with loved ones and enjoy a good meal together. As great as the holiday is, we know that it can also be a stressful time, especially if you have orthodontic appliances. If this is your first holiday season with treatment or not, we understand you might be nervous about not being able to enjoy your seasonal favorites, especially after a tricky Halloween. Luckily, when it comes to Thanksgiving most of the traditional foods are safe to eat even with braces.
A general rule of thumb is to avoid placing sticky, hard, or crunchy foods on your holiday plate. Sticky foods tend to get caught in between brackets and teeth, while crunchy and hard foods often increase your chances of damaging wires and brackets.
We know you might be worried about how your dental appliances hold up against the holiday and you don't want any malfunctions or emergencies, so we've put together a few tips to help you navigate this holiday feast.
Starters
Appetizers are typically served while waiting for guests to arrive and help keep you satisfied until everyone is ready to eat. While some appetizers might not be the best for braces, there are still a lot of options for you!
Deviled Eggs, cheese, sliced meats, soft dips with bread, meatballs, and cocktail weenies are great starters to munch on while you wait for the main course.
Steer clear of crunchy chips and potatoes as well as popcorn, nuts, and raw vegetables as these hard and crunchy treats can do damage to your teeth and appliances.
Main Course
The best thing is that most Thanksgiving staples and traditional foods are perfectly brace-friendly foods, so you won't have to hold back at all!
Turkey, Ham, and Meats- Most meats such as turkey and ham are safe foods for your teeth. Just make sure to cut the meat from the bone and into small pieces before digging in. Avoid stringy meat that could potentially get stuck between teeth.
Stuffing- Stuffing is typically soft making it a great choice for orthodontic appliances. However, some recipes may call for walnuts or pecans, be sure to ask what is inside before getting a serving and be careful with edge pieces as they might be too crunchy for your braces.
Vegetables- Cooked vegetables are always a healthy and happy option for any meal. As long as they are cooked and not raw, you should be in the clear. This even includes mashed potatoes! Due to their soft texture, mashed potatoes are an excellent choice. Enjoy those creamy and fluffy potatoes and put a dollop on us! Do not eat corn on the cob, as this could damage your braces. Instead, remove the kernels from the cob and eat them off your plate.
Casseroles- Casseroles can be a great way to combine several brace friendly ingredients into one tasty dish. Whether you want green beans, sweet potato casserole, or anything in between you are safe to do so. Just be sure there are no crunchy or hard foods in the casseroles and watch out for those sticky marshmallows!
Bread- Unless there are nuts added into your bread options, you are free to load up on those delicious rolls and muffins.
Dessert
This is where things can become tricky. While dessert may be the best part of any meal, there are some desserts that you should look out for.
Most baked goods such as cookies, pies, and cakes are safe options provided there are no nuts, caramel, and aren't too crunchy. Jell-O, mousses, and puddings are other great options.
Caramel and sticky sweets or crunchy bark candies and treats can damage your braces and should be avoided.
Whatever you decide to load your plate with this Thanksgiving, be sure as always to brush and floss thoroughly after every meal. This will help keep cavities at bay and prevent any other dental problems from creeping up on you. For more information or tips, please contact us at Hansen Orthodontics today.