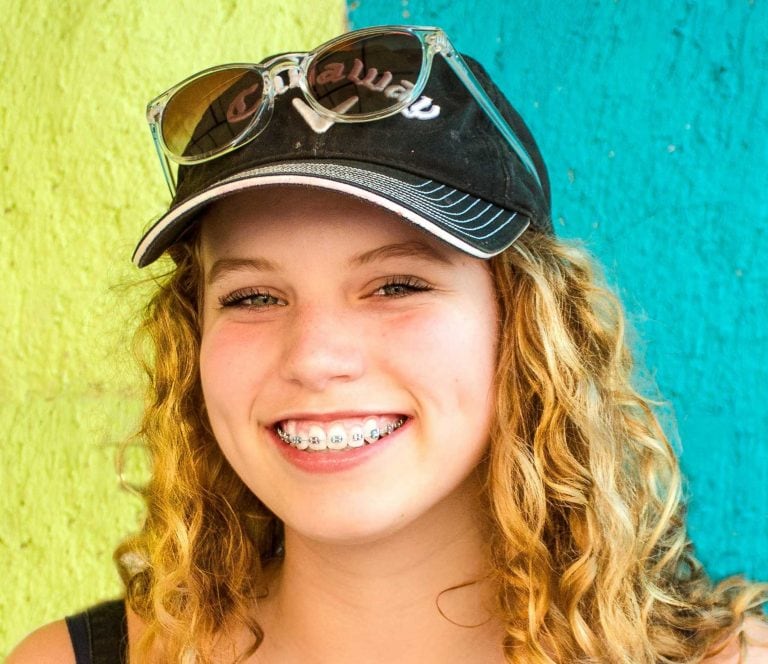 When you have orthodontic treatment, a significant portion of your teeth may be covered allowing food particles to easily get trapped between your teeth and behind brackets, wires, and rubber bands. During your treatment, we cannot emphasize enough how important it is to remember to floss your teeth daily when you have braces or other orthodontic appliances.
Why is Flossing Important?
Brushing only removes plaque from the surface of your teeth, while flossing works to remove plaque from areas of your teeth your toothbrush can't reach such as between teeth and underneath the gumline to keep your oral health in check. This is important if you have traditional orthodontic treatment as your appliance may prevent your toothbrush from fully brushing the surface of your teeth.
If you do not remove plaque daily, it can harden into tartar and increase your risk for gum inflammation and gum disease, which are two common dental conditions often associated with not flossing enough. To keep your teeth and gums strong and healthy, you should make flossing a part of your daily routine. It doesn't matter if you floss at night or in the morning, it is just important that you do so at least once a day.
When teeth touch, the narrow space between them can only be cleaned through flossing. As soon as children have teeth that touch one another, it is time to help them floss. By starting early, you protect their smile as they grow and help to instill good oral health habits.
Flossing with Braces
Braces and other orthodontic appliances provide extra surface areas in the mouth for plaque to grow. We understand flossing can become difficult with braces in the way, however, it is a vital part of maintaining your oral health and hygiene. Failing to floss daily with braces can impact your treatment and oral health negatively and may lead to the following dental health concerns:
Bad breath
Cavities
Discolored teeth
Gum disease
Tooth decay
Tools to Make Flossing Easier
There is no doubt that flossing with braces can become a daunting task when navigating between wires and brackets. However, there are several flossing options that can help make the process easier.
Dental Tape- If your gums are sensitive, dental tape can be an ideal flossing method. Dental tape is an ultrathin floss and that is smooth, waxed, and spongy. This tape is thinner and wider than traditional floss allowing it to glide between teeth more easily.
Floss Threaders- Floss threaders are tools that can speed up the traditional flossing process by helping pull floss between the brackets and wires.
Interdental Brushes- Proxy brushes, or interdental brushes, are round/cone-shaped brushes with small bristles made of silicone or nylon held together by a wire. This flexible brush is designed to fit in-between your teeth and comes in a variety of sizes so that you can select the one (or ones) that work best for your teeth.
Oral Irrigators- Oral irrigators, or water flossers, use a steady stream of water to clean between the teeth and along your gum line. Some brands of oral irrigators offer special tips for patients with orthodontic appliances that enable them to clean around brackets easier than the standard tips.
Traditional Floss- This method can be difficult for patients with braces as threading floss around the brackets and wires takes time. We recommend using wax-coated single-strand floss that can easily be maneuvered between your braces.
If you find flossing with braces difficult, our orthodontic team can demonstrate various flossing types and methods that work well with braces. We will work with you to find the one that works best for you. We recommend patients floss at least once a day and follow up with an interdental brush to clean under the wires and around the brackets.
It is normal to feel some discomfort and notice bleeding when you first start to floss. After flossing regularly for a few weeks, your gums will feel better and the bleeding will stop. If you continue to experience discomfort, you may need to consult your dentist. For more information on how to floss with braces or to request a consultation, contact Hansen Orthodontics today.