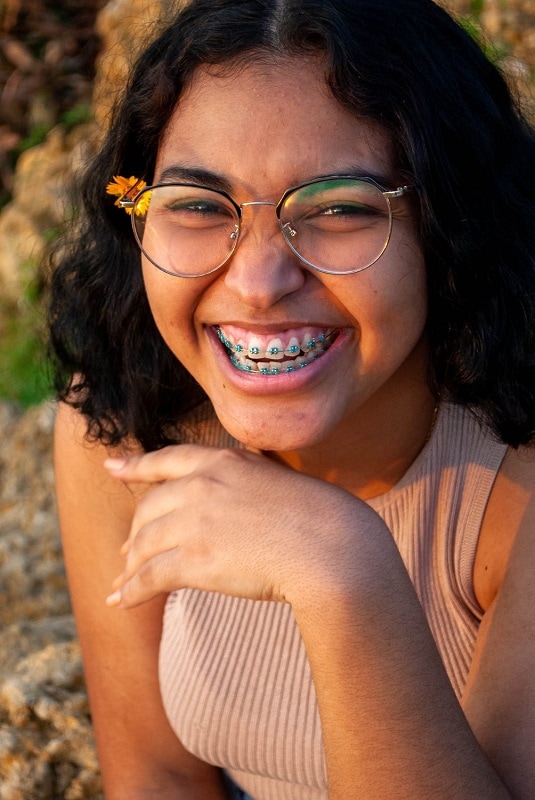 When you mention braces, most people think of perfectly straight teeth, but there is so much more to orthodontia than just the aesthetics. For many, enduring metal brackets was a necessary part of growing up. Luckily, advances in dental technology have given us clear aligner therapy, and even tooth-colored ceramic brackets, as alternatives to shiny silver brackets. Looking beyond straight teeth and improved bite, orthodontic treatment from (insert practice name) can benefit both oral and overall health.
What are Some Of The Hidden Health Benefits of Orthodontics?
Crowded and overlapping teeth make it difficult to brush and floss effectively. When food particles stay behind on teeth, a sticky substance called plaque builds up. As plaque goes relatively untouched between the teeth and gums, it becomes a breeding ground for bacteria. This opens the door to periodontal disease and tooth decay, both of which can lead to teeth and bone loss. Traditional braces and clear aligners guide teeth into alignment, allowing you to reach the in-between spaces that eluded you in the past.
Gums protect the roots of teeth, but they have difficulty keeping bacteria at bay when teeth are misaligned. An increased presence of bacteria in the mouth can impact your heart health. If the bacteria reaches your bloodstream, it is deposited on the wall of the heart. Clear aligner trays are removed for brushing and flossing, so they make it easier to remove excess bacteria than traditional braces.
Malocclusion is the term that describes a misalignment between the upper and lower jaws. When teeth line up properly, the TM (temporomandibular) Joint usually functions smoothly. Malocclusion puts pressure on the TMJ, causing anything from a dull ache to severe pain. In the past, traditional braces were the only option to fix bite issues. Many clear aligners can now be made to fix more serious cases of malocclusion.
Is Clear Aligner Therapy Right For Everyone?
Now that clear aligners can be fitted with rubber bands; more people have the option of choosing clear aligner therapy over traditional braces. Crowding, overlapping, gaps, and mild to moderate bite issues can be corrected with clear aligners. Cost may be prohibitive to some, but for many others, the benefits outweigh the cost. A thorough screening from (insert practice) will help show you which orthodontic treatment is right for you.
Traditional vs. Clear Aligner Orthodontia
Traditional braces consist of old-school metal brackets, mini brackets, and tooth-colored ceramic brackets. Lingual braces are placed on the back of the teeth to make them less conspicuous than traditional braces, but they still use brackets and wires to do the work. Brushing and flossing can be tricky since the brackets are cemented to the teeth. Staining is common, and in some cases can be permanent.
Clear aligner trays are worn for at least 22 hours a day. You remove them to eat and brush, so keeping teeth clean and stain-free tends to be easier with clear aligners. A set of clear plastic trays slowly guide teeth into place. Most people change trays every two weeks, though individual treatments plans vary. Like traditional braces, when treatment is complete in six months to two years, retainers keep teeth from shifting back to their old positions.
For more information, please contact Hansen Orthodontics today!