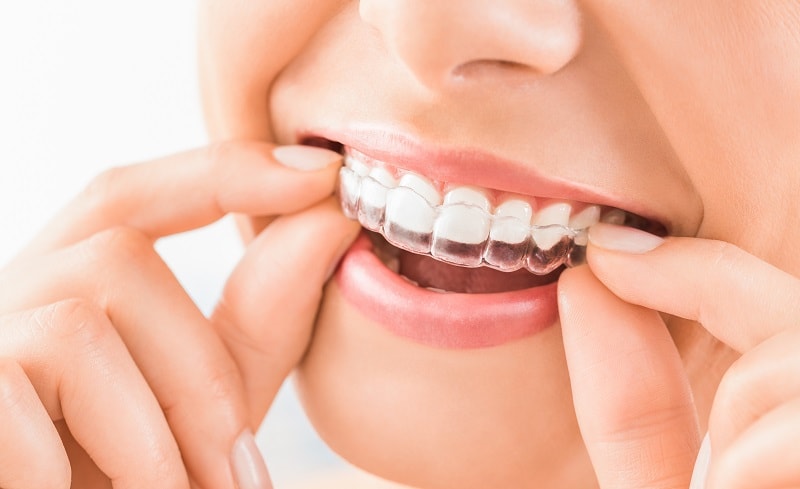 Invisalign is an excellent option for adults and teens interested in straightening their smile without traditional metal brackets or wire braces!
Why Invisalign?
Invisalign is known for being more convenient and less painful than some of the conventional options, but there are things you must do to ensure it's a successful form. If you fail to take care of your teeth while using Invisalign, you won't get the beautiful smile you long for and deserve. Here are some of the essential tips to remember when using Invisalign!
You Must Rinse and Floss Daily
The most important tip – no matter where you read about Invisalign treatments – is to rinse and floss every single day after you eat. Most people remember to brush their teeth after eating. However, rinsing with water will help to loosen the food particles, and you can floss to help get rid of food that has gotten stuck between the teeth.
Think of your Invisalign as being your real teeth. Treat them like you would regular teeth – brush, rinse, and floss. By doing this, you improve your chances of successful treatment.
What many people fail to recognize is that Invisalign is plastic aligner, which will hold onto food even after brushing. That is why it is so essential to rinse and floss after eating or drinking.
Wear Your Aligners
If you want to get the most from your Invisalign aligners quickly, you should be wearing them at least 22 hours a day, removing them for times when you're eating, drinking or playing some contact sports. (Don't forget to brush and floss after eating and drinking before putting the aligners back in, and then brush again to minimize bacteria in your mouth.)
If you decide to keep wearing your Invisalign aligner while playing contact sports, consider buying a mouth guard to protect your "investment" and teeth.
Use Chewies
Invisalign treatment is only successful when each tooth fits appropriately in the aligner. How do you know if your aligner isn't fitting just right? If you feel air gaps between the teeth and aligner, then there is an issue. This is where chewies come in to help. They are small, plastic cylindrical cushions that will help in sealing the aligner, so they fit against your teeth.
Regular use of chewies can improve the chances of the treatment finishing in a shorter time frame. Just use them several times a day for up to 10 minutes each time to get the benefit they provide.
Change Aligners When Directed
Your orthodontist is going to give you a schedule of when you need to change your aligners. Don't ignore it. Don't think you can wait a few more days before changing them or that you can change them a day or two early. Changing them early or late can harm the overall treatment.
See Your Orthodontist Regularly and Get Your Cleanings
You already know how important oral health is, which is why it's stressed that you get your teeth cleaned two times a year. Many people neglect their mouth, which can lead to other health problems. If you're seeing an orthodontist for Invisalign treatment, you don't want to ignore your cleaning.
On top of that, your orthodontist can determine if the Invisalign isn't working like it should, making adjustments where necessary and coming up with solutions, so you get the most from the treatment.
Use Your Retainer
Once you have finished wearing your aligners, your retainer is another essential part of your treatment. The retailer should be worn every day until your orthodontist tells you it's okay to wear it only at night.
Always follow your orthodontist's instructions regarding the treatment plan to ensure its success. It can take anywhere from six months to a year for your Invisalign treatment to work. It's not uncommon for many people to need another set of Invisalign aligners in the middle of their treatment, but remember what the goal is: to give you a beautiful smile you desire and deserve.
Request a consultation with our team at Hansen Orthodontics to see if Invisalign is right for you!